Food #2 that ages you faster:  
Corn-based foods — corn syrup, corn cereal, corn chips, corn oil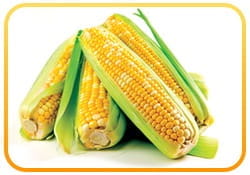 This is quite a variety of stuff that you might eat every day… we're talking corn chips, corn cereals, corn oil, and also the biggest health-damaging villain that gets most of the media attention, high-fructose corn syrup (HFCS).
We already talked in detail in the last section about wheat regarding the blood sugar process and it's relation to age-accelerating formation of nasty "AGEs" in your body.
Well, corn-based starchy foods such as corn cereals, corn chips, etc also have a big impact on blood sugar levels and therefore can increase AGEs in your body and accelerate aging.
But here's another nail in the coffin for corn… it turns out that scientists have found out that the fructose in HFCS causes 10x more formation of AGEs in your body than glucose!  Yes, that's right… that means the HFCS you consume daily in sweetened drinks, and most other processed foods (yes, even salad dressings and ketchup) contribute to faster aging in your body… as if you needed yet another reason to avoid or minimize HFCS!
We're not done yet with corn… it gets even worse…
Another major issue with corn-based foods and corn oils is that these foods contribute excessive amounts of omega-6 fatty acids to your diet, which causes an imbalance in your omega-3 to omega-6 ratio and leads to inflammation and oxidation within your body.
Once again… another example of corn-based foods aging you FASTER.
My advice :  Avoid or reduce corn-based foods like corn chips and corn cereal as much as possible. These aren't as bad as wheat in relation to blood sugar, and they don't contain gut-damaging gluten like wheat does, but they are still bad for you.  When it comes to corn syrup or corn oil, avoid as much as you can if you want to stay lean, healthy and young looking.
Go to the NEXT PAGE to see Food #3 that accelerates aging in your body: